IQ Option Review [2021] – Beginner's Guide to Binary Options
IQ Option Review
Demo Account: Yes
Min. deposit: $10
Technical analysis: Yes
Trading Platforms: Desktop, Web & Mobile
Assets: Forex, Crypto, Options, Stocks & Commodities
Your capital might be at risk!
In this IQ Option review we review this well-known, well-regulated online broker. The broker was founded in 2013 and has grown tremendously since then.
The variety of financial instruments offered by IQ Option is just fantastic! From binary options to cryptocurrency, IQ Option provide them all.
We show you the fees, trading platforms offered and how to account opening process works.
After reading this article, you'll know exactly if this broker is for you or not.
So, let's dive in!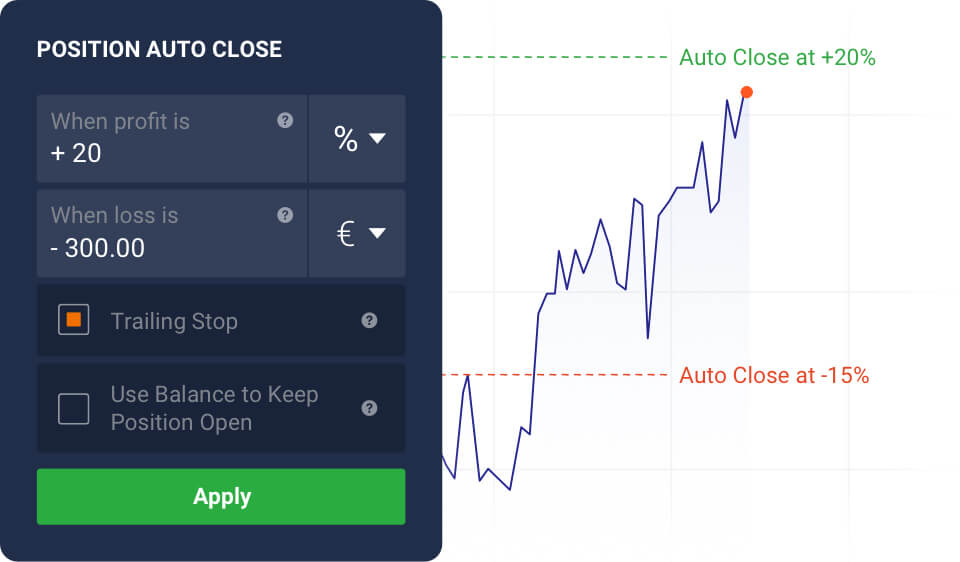 What is a Binary Option?
A binary option is option with two outcomes and a fixed payout. Think of it as real binary, as in on or off, yes or no, win or lose, high, low, up or down.
The binary options may span from very short term (60 seconds) to as long as a year. You can also trade off an important data announcement within the span of hours.
Although in most cases, there is only one decision that you need to make, it can be converted into two decisions, depending on if you are only looking for a high or low speculatively. So, you really have a choice of decision to take.
As much as possible, there is no need to waste time in waiting for the event to be completed and still with the same negative attitude. This is an opportunity that every trader has to make money regardless of the outcome.
All you need to do is to make a proper prediction, and you are already halfway there to profit.
Traditionally, trade and exchange begin with a broker as the middle man, collecting a certain percentage from all the transactions that you make.
However, it is different from binary options trading, where there is no broker included in the trading process. You trade directly with the brokerage company, and your profit or loss will be your own.
Although it may sound like a disadvantage to some, there is actually a huge advantage.
Being a beginner, you may have some concerns and confusion, and it's always best to start with an established, well-reputed, and credible binary options broker that will give you all the necessary support if ever you get stuck.
IQ Option is one that truly matches the features and is a highly recommended broker for everyone.
IQ Option Review
IQ Option is a Cyprus-based financial technology company that has established itself as one of the leading Forex, binary options, and CFD brokers in the world.
Despite its popularity and credibility among the digital trading sector, IQ Option is a clean and transparent broker who seeks to provide an ideal experience for trading beginners as well as advanced traders.
Is this platform a broker that you can trust? You should read this review and find out.
Risk warning: CFDs are complex instruments and come with a high risk of losing money rapidly due to leverage. 85% of retail investor accounts lose money when trading CFDs with this provider. You should consider whether you understand how CFDs work and whether you can afford to take the high risk of losing your money.
IQ Option Review: Fees
Brokers, as we all know, make their income by charging a certain amount from the traders. The percentage they charge from your winning depends on the broker and the trade type.
An excellent forex broker, such as IQ Option, offers a great deal of flexibility to the traders in terms of the choice of assets and the fee that you can pay.
The IQ Option trading fees are reflected in the following way:
Swap fees
These fees are applicable to positions that you hold overnight. The charges usually vary from 0.1 to 0.5% but may go up if hold the positions over the weekend.
The fee is deducted from the nominal account and is not part of the spread. This is the case in all standard currency pairs, stock indices, and commodities.
Spreads
These are displayed, i.e., the bid price on the left and the ask on the right, so that you will know the realistic price that you need to pay to enter or exit the position.
The spreads can change during volatile periods, and this will result in a change of the final price in accordance with the movement of the underlying asset.
Traders must also keep in mind that these prices are net price and may be subject to additional fees and charges, which includes regulatory, taxes, and currency exchange.
Withdrawal fees
IQ Option doesn't have any withdrawal fees like most payment service providers. There is a fee for all bank wire transfers, which works in a way that the amount you are withdrawing will be reduced by a certain fixed percentage.
This is not applicable in case of credit/debit card withdrawal. And it's something you'll need to discuss with your bank as it's beyond their control.
Furthermore, you may also have to pay for currency exchange if the currency you have on the trading account differs from the bank.
Commission
IQ Option charges commission only on a few cryptocurrency trades. Crypto-to-crypto transactions are tradable on the IQ Option platform, with the most popular cryptocurrencies like Bitcoin, Litecoin among the list.
However, these charges are not applicable if you trade on any other asset.
Dormant Account Fees
This is applicable when the client's account has no activity for more than 90 days (~3 months). The management will choose to terminate the account (and thus any trades) or leave the current trading position in the account, with instructions to close it should there be activity again in the account.
IQ option will continue to charge you €10 (or currency equivalent) per month till the account balance reaches zero.
This is one way of reducing brokerage costs in order to provide better service, and it also helps them avoid losing their customers to their competitors.
IQ Option Review: Products
People think that IQ Option is just a binary options broker, but that's just the beginning of its business. In the course of its development, IQ Option has managed to obtain a license to trade CFDs on gold, cryptocurrencies, and more than 50 of the world's most traded commodities.
Always keep in mind that IQ Option has a range of trading assets. Therefore, before you trade, make sure you know which market you wish to trade-in.
Your capital might be at risk!
Stocks
Binary options trading on CFDs of stocks is the latest development in the financial trading world, and IQ Option jumped in on this opportunity and has now become one of the best binary brokers for stock trading.
Energy stocks, banking stocks, drug stocks, shipping stocks, software stocks, social media stocks are just a few of the many stocks that are tradable on IQ Option.
Furthermore, IQ Option allows everyone to trade CFDs on 169 best-performing stocks. And you can do this without paying any opening fee. You only need to invest $1 for stock CFDs that have leveraged up to 1:20.
For traders, IQ Option is the best CFD broker for stock trading. Their site is easy to use, registration is free, and all stock CFDs are available for trading.
And they also allow you a demo account so that you can practice and try over and over before you deposit.
Forex
IQ Option is widely popular for its Forex trading options. This is because it offers a wide range of currency pairs and competitive spreads.
It has Forex pairs for major currencies in a wide range of time frames. Additionally, it offers about 50 currency crosses where you can trade Australian or New Zealand dollars against British Pound, Canadian dollar against the Euro, or even the US dollar against the Japanese Yen.
In most cases, it offers the first three decimal places, which is enough for any trader to have leverage in his trading.
IQ Option also has a feature that allows you to create a trading plan or a trading strategy. This means that if you are an advanced trader, you would have your own trading schemes for your trading decisions.
With this strategy-setting feature, you can have your own rules when it comes to trading your trades. Furthermore, you can also lock in the profit when the market price of the asset moves to your predicted price.
Some of the most fruitful currency pairs that traders often deal with are AUD/USD, USD/CHF, NZD/USD, GBP/USD, EUR/USD, USD/CAD, and USD/JPY.
Currently, you will find 50 Forex pairs on this trading platform. The list may change depending on market conditions and currency fluctuations.
IQ Option Forex is a full trading platform where you can view all of these pairs, and you can also analyze it using the built-in charting tool.
Commodities
Binary options on commodities mean that you can trade on Crude Oil Brent, Gold, Platinum, Crude Oil WTI, and Silver.
However, commodities trading on IQ Option is available in a very limited jurisdiction. This means that you can only trade this in certain jurisdictions. Traders can now speculate and trade in the commodity market.
The firm has CFD trading of gold and silver, as well as Crude Oil WTI. Trading commodities on IQ Option is very profitable for many reasons. But the main reason that traders come to IQ Option is that you can use high leverage of up to 1:20.
Furthermore, there is no swap and spread charges, which results in a much more profitable trading scenario. It's not often that you see a trading platform without costs, but here you have it.
Cryptocurrency
The one thing that has taken the world by storm is the cryptocurrency boom. Much of the trading range is often limited regarding the number of cryptocurrencies.
Currently, IQ Option is the broker that is offering binary options on the largest number of cryptocurrencies. The range of cryptocurrencies that traders can deal with includes Bitcoin, Litecoin, Ethereum, Ripple, Dash, and Zcash.
Any trader that puts up his trades on any of these cryptocurrencies will be able to be profitable as they gain more and more value, which translates into huge profits when paid out.
Furthermore, this platform brings you an incredible margin trading leverage along with a tight spread so that you can trade in a more stable and profitable way.
ETFs
You have to know that trading using ETFs is the easiest way to trade and invest while earning the most profits.
Trading ETFs options on IQ Option will enable you to invest or speculate on the price performance of the top 25 ETFs by using a CFD-based contract for difference.
This means that you do not actually buy or own the ETF but rather trade using the underlying value of the ETF by using leverage.
IQ Option Review: Account Opening
Opening an IQ Option account is a very easy process. Please follow the steps enlisted below to do so:
Your capital might be at risk!
Open your browser and navigate to the official website of IQ Option (iqoption.com). You will see an account opening form on the right side of the home page. Click on that form to continue.
Fill out your personal details like name, email id, and password. Don't forget to agree to the terms and conditions box. Once you finish, click on the button that says, "Open an Account for Free."
You will immediately get an email with a verification link. Go to your email inbox and find the email from IQ Option. Click on the verification link. This link will redirect you to the IQ Option website. It will ask you to sign in. Sign in with the email id and password you entered while filling out your personal details.
Do you want to become a professional trader? If yes, you will have to verify your account later. This makes deposits and withdrawals easier.
It's almost the same verification process that you had to do when you first signed up. But this time, you will have to upload proof of your identity and address.
These identity proof can include a driving license, passport, or any government identification card. You can also call them and provide specific details regarding your proof of identity.
Once you enter your trading account, you will see various options like your trading portfolio, trading history, market analysis, video tutorials, and chats, and support for all kinds of issues related to your trading activities.
If you want to trade manually, you can do so by selecting the "manual trading" option from the left side of the platform.
If you select this option and hit the edit button on this page, the profile section would be open, and you would find all the details that you need about your broker and trade account.
The main features of this page would be to display a field for the broker name and your reference number.
Here you can see the time business with us and broker's trading costs. Selecting the options tab would also redirect you to the trades' history.
IQ Option Review: Deposits & Withdrawals
You only need to deposit $10 USD/GBP/EUR to start trading. One of the reasons why IQ Option is so popular as an online trading broker is it doesn't charge any processing or transaction fees for depositing funds.
To make your first deposit, you need to verify your account. This requires a photo verification process where you need to upload your photo.
The verification process may vary from one country to another. It is best if you check the verification terms and conditions of your country before proceeding.
IQ Option offers various ways to deposit money into your trading accounts, such as wire transfers, Mastercard, and Visa card.
It also accepts money from online wallets like Maestro, Cash U, Moneybookers, Neteller, WebMoney, and Skrill. One thing that you need to remember is it doesn't accept PayPal as one of the payment methods.
When it comes to withdrawals, $2 is the minimum amount that you can withdraw from your trading account. To make a withdrawal, you must first make a withdrawal request.
Also, you should use the same payment method that you used to deposit money into your trading account. You can, however, change the payment method later. But your first deposit and withdrawal should have the same payment method.
As already mentioned, IQ Option doesn't charge any transaction or processing fee while depositing or withdrawing money. Your bank, on the other hand, may deduct a small service charge fee. Your first withdrawal would also involve an identity verification process.
This process may take up to 3 days to process. Once the verification is over, you can expect IQ Option to process your withdrawal requests within one business day.
IQ Option Review: Web Trading Platform & Features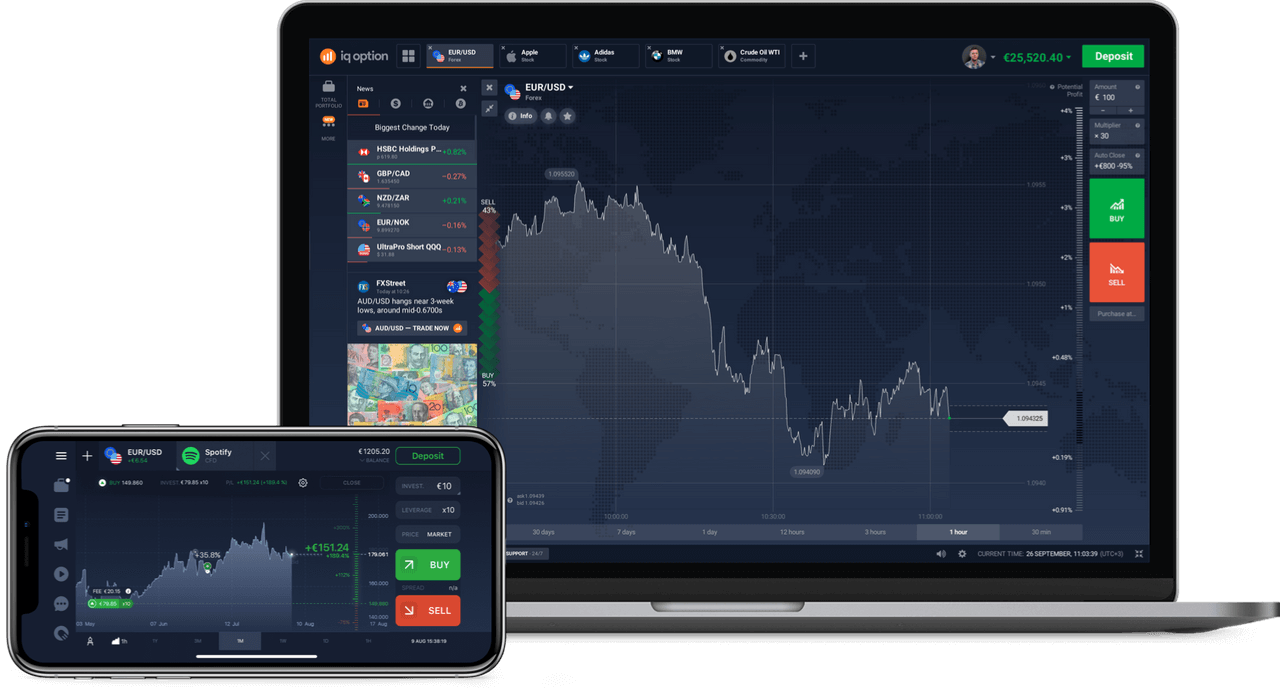 A unique part of IQ Option is the web trading platform, a masterpiece that fully matches the advanced features of the world's leading trading services.
The platform is unique and innovative. It contains all the information you need to make it big in the binary options trade.
However, despite all widgets and running graphs, IQ Option has managed to breathe in simplicity enabling even the greenest of traders to start making money.
It has every single feature that you need, and it even gives you the opportunity to customize your trading experience to your exact preference.
Further enhanced with trader risk management, the platform gives you all the knowledge you need for making confident trading decisions. How much to invest, when to invest, and also to never over-extend your position.
Some key features of the platform include:
Customizable trading panels
Download historical price action and build your own trading strategy
Auto-select trade types
The order types
The fund's transfer
24/7 Client Support
Technical Analysis
Trading Platforms
IQ Option Mobile App
IQ Option Review: Mobile Trading Platform
Mobile applications are the best innovation for the commerce industry. Commerce is no longer tied to the proximity of a desktop computer.
Now everything is at your fingertips. Make high-quality transactions at the touch of a button. Now you can trade stocks, currencies, stock CFDs, or binary options from virtually anywhere in the world.
Understanding the need to trade from mobile devices, IQ Option has a mobile application for Android and iOS platforms.
Both mobile applications provide the same features and functionality as the website. However, the experience you will have will be a lot smoother and faster with the IQ Option trading applications.
The application is designed to provide an optimal trading experience regardless of the time, location, or device you are using.
IQ Option Review: Desktop Trading Platform
Powered by innovative, dynamic, and flexible trading tools, IQ Option empowers its users with a powerful desktop trading platform that is available for both Mac OS & Windows OS.
And through this platform, traders can trade with CFDs, Options and can explore the range of trading assets at any time in an intuitive manner.
It offers an intuitive interface that displays all of the relevant information to the traders, and the user-friendly platform enables the traders to get started for both beginner and experienced traders.
IQ Option Review: Research
IQ Option is currently one of the best providers of research tools in the binary options industry, with a wide range of these tools being available to all customers, free of charge, through the official website and a part of the trading platform opened to all traders.
Among other products, we find an impressive Economic Calendar, also an Earnings Calendar that is specifically made for Stock traders.
Additionally, the IQ Option News Feed contains articles on different topics, from stock quotes and scientific analysis to reviews of brokers.
IQ Option Review: Education
The IQ option, to assist any trader, enhances the opportunities to provide in-depth training and support in the form of video training materials as well as webinars.
They also provide important information on the brokers' FAQ pages and e-books. Everything is accessible and available on the broker's website, as well as on their official application.
Once your account has been verified, you will even have access to customer support via live chat and the community discussion forum.
IQ Option Review: Customer Service
One of the most appreciated things about IQ Option is their customer service. This is because they bring the right stuff when it comes to customer service.
You need not worry about how you will get your questions answered because you can contact them in many ways.
First, the customer service team is always available round the clock. Their online chat feature is great, as it gives you an immediate response.
Also, you can do an email or send a message to their social media accounts. All these can be done by clicking on the Contact button you will find on their website.
The customer service at IQ Option aims to provide the fastest response time possible.
IQ Option Review: Pros & Cons
Pros
Support for a multitude of cryptocurrencies
Top-notch privacy protection
Variety of assets
Proven reliability
Great customer service
Free practice account and free training
Low minimum deposit amount
Includes multiple languages
Allows trading in multiple currency pairs
Cons
The interface can be intimidating for newbies,
Dormant account fees
Conclusion
To conclude this IQ Option review, IQ Option is so more than just binary options. This broker is a all-in-one solution with all you need to successfully start trading.
And also, you can do it whenever you want. Therefore, IQ Option is a great resource for beginners to learn and to test their abilities.
Once you are ready to trade in real mode, IQ Option is a great bet.
The platform itself is straightforward and simple to use. If you have ever used a binary options trading platform or have some experience, you will not have any issues using their platform.
This platform has what it takes to attract both new and advanced traders.
We recommend this broker to both those that are new to trading not just for binary options but for stocks, Forex, and other assets as well as to more experienced traders who are looking for the best binary options broker for 2020 and beyond.
Your capital might be at risk!
Similar broker reviews:
Pin Me ?:
About Author
TradingGator
TradingGator is a trading review website where you can read about everything from CFD signals to the best European forex brokers. Find the top trading platforms and courses to become lazer sharp in your execution. We even cover the best forex affiliate programs and show you step-by-step how to get started. TradingGator - For Traders, By Traders!